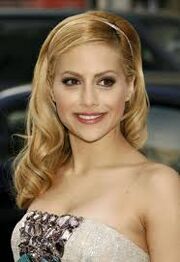 Brittany Anne Murphy-Monjack (born Brittany Anne Bertolotti; November 10, 1977 - December 20, 2009), better known as Brittany Murphy, was an American actress. She provided the speaking and singing voice of Gloria in Happy Feet.
Trivia
Ironically, Brittany had been in another film with Mumble's voice actor, Elijah Wood, titled Sin City. However, Elijah and Brittany were never in the same scene.
External links
Ad blocker interference detected!
Wikia is a free-to-use site that makes money from advertising. We have a modified experience for viewers using ad blockers

Wikia is not accessible if you've made further modifications. Remove the custom ad blocker rule(s) and the page will load as expected.