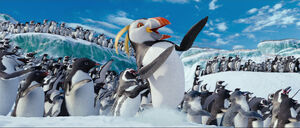 "Dragostea din tei" is a romanian song from Happy Feet Two. and sung by Sven (Hank Azaria). It is played when Sven is taking over his dancing by the chours of Adélie-Land since Mumble's feet is hurting.
Movie version
Edit
(Sven)
Mai Ya He
Mai Ya Huu
Mai Ya Ha
Mai Ya Haha
(Chorus)
Mai Ya He
Mai Ya Hu
Mai Ya Ha
Mai Ya Haha
Vrei sa pleci
Dar nu ma nu ma iei
Nu ma Nu ma iei, Nu ma Nu ma, iei
Chipul tau si dragostea din tei
Mi-amintesc de ochii tai
(Sven)
Soundtrack version
Edit
When Lovelace is dancing, you can also see Will the Krill dancing and landing in a ice hole during the sequence.
Before Sven sings "Dragostea Din Tei", he says that the song is in Svenish. The song is actually in Romanian, as Svenish is a fictional language.
In the movie version, the song goes in speed with different beats and sound but not the lyrics.

In the soundtrack version, it sounded different that included a full version of it.
Ad blocker interference detected!
Wikia is a free-to-use site that makes money from advertising. We have a modified experience for viewers using ad blockers

Wikia is not accessible if you've made further modifications. Remove the custom ad blocker rule(s) and the page will load as expected.