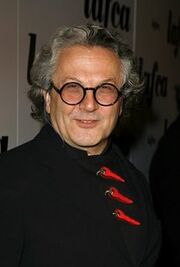 George Miller (born George Miliotis, 3 March 1945) is a Greek/Australian film director, screenwriter, producer, and former medical doctor.
Miller is the creator of Happy Feet, a musical epic about the life of penguins in Antarctica. The Warner Bros. produced film was released in November 2006. As well as being a runaway box office success, Happy Feet has also brought Miller his third Academy Award nomination, and his first win in the category of Best Animated Feature.
Ad blocker interference detected!
Wikia is a free-to-use site that makes money from advertising. We have a modified experience for viewers using ad blockers

Wikia is not accessible if you've made further modifications. Remove the custom ad blocker rule(s) and the page will load as expected.