"Gloria Joins" is an instrumental score from Happy Feet.
Information
Edit
Composed by John Powell, "Gloria" is an instrumental score that appears in Happy Feet (score).
When Mumble, Lovelace, and the Amigos are searching for the land of the Elephant Seals, Gloria was shouting to Mumbe as the penguins come to Gloria. Gloria strongly objects, and eventually catches up with him on his quest to find the aliens. Knowing that his quest is dangerous, Mumble purposely starts an argument with her and upsets her to the point of leaving in a huff. Mumble feels bad about this, but knows he did the right thing. Before the score ends, the Amigos sing a sad song to Mumble "If You Leave Me Now" by Chicago as Mumble is saying to them to stop singing no more.
In this score, Gloria sings the lyrics from "Boogie Wonderland" All the love in the world can't be gone, All the need to be loved can't be wrong.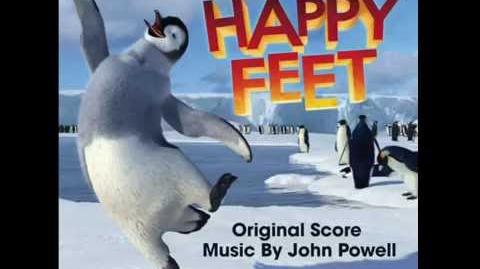 Ad blocker interference detected!
Wikia is a free-to-use site that makes money from advertising. We have a modified experience for viewers using ad blockers

Wikia is not accessible if you've made further modifications. Remove the custom ad blocker rule(s) and the page will load as expected.