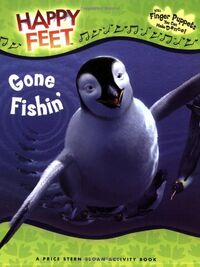 Gone Fishin'
is a activity book wrriten by Price Stern Sloan.
Description
Edit
Have lots of fun with this great activity book based on Happy Feet. Includes word searches, picture puzzles, matching, mazes, and lots more. And don't miss the press-out feature in the back of the book—a souvenir from the movie that fans can keep forever!.
Ad blocker interference detected!
Wikia is a free-to-use site that makes money from advertising. We have a modified experience for viewers using ad blockers

Wikia is not accessible if you've made further modifications. Remove the custom ad blocker rule(s) and the page will load as expected.