Happy Feet is a series of animated films produced by Village Roadshow Pictures and Animal Logic, and distributed by Warner Bros. Pictures.
Movies
Happy Feet
Main article: Happy Feet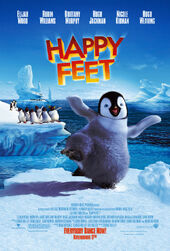 Happy Feet is the first movie of the series, and released at November 17th, 2006. The story is about a penguin named Memphis and Norma Jean that has a son named Mumble. Mumble is the worst singer of the history, leading him to be taunted. While in the deep thought, Mumble discovers a talent for tap-dancing and learns faster when he grown up. And meets Gloria, Amigos, and more.
3-D Re-Release
The studio had hinted that a future IMAX 3D release was a possibility. However, Warner Bros., the film's production company, was on too tight a budget to release Happy Feet in IMAX digital 3D.
Happy Feet Two
Main article: Happy Feet Two
Happy Feet Two is the second movie of the series, and released at November 18th, 2011. Mumble, the penguin has a problem with his son, Erik. Who is reluctant to dance, and ecounters the Amazing Hero Puffin called The Mighty Sven. A penguin who can fly! But things get worse for Mumble when the world is shaken by powerful forces, causing him to brings together the penguins nations and their allies to set things right.
Happy Feet Three
Main article: Happy Feet Three
A third Happy Feet film comes on November 5th 2018. It is the only film of Hugo Weaving after his death in December 3rd 2017.
"If you put a gun to my head and said, 'You have to come up with a story for Happy Feet Three,' I'd say shoot me. I would have no idea. I really would have no idea. The stories creep up on you. You just have to allow the stories to come, and then they get in like little ear worms in your head and they won't go away. If that happens and we've got the energy, we'll do it is a fantastic movie a third one. If it doesn't happen, it doesn't happen. That's the only way you can do it. It has to be authentic. I really wanted to make this film better than the first one. Otherwise, at my age, what's the point? You really want to make it better. If something comes up that's really exciting and I can convey that enthusiasm to other people, then there would be a third one."
―George Miller.
Cast and Characters
Notes
A grey cell indicates the character was not in the film.
Most characters of the series has brown eyes except for Mumble and Erik. Some characters has blue, green or red eyes like for a sample. The skuas has different eyes while stealing Mumble's fish from the first film.
Video Games
Soundtracks
Ad blocker interference detected!
Wikia is a free-to-use site that makes money from advertising. We have a modified experience for viewers using ad blockers

Wikia is not accessible if you've made further modifications. Remove the custom ad blocker rule(s) and the page will load as expected.