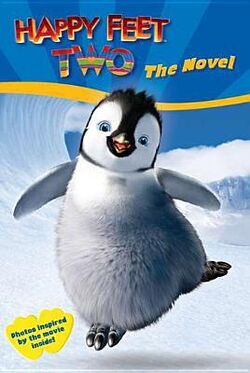 Happy Feet Two: The Novel is a novel book written by Paul Livingstion and based on the movie, Happy Feet Two.
Description
Edit
Happy Feet Two returns audiences to the magnificent landscape of Antarctica, reuniting the world's most famous tap-dancing penguin, Mumble, the love of his life, Gloria, and their old friends Ramon and Lovelace.
In this novel adaptation, which includes full-color images from the film, we meet Erik - Mumble and Gloria's son. Erik is struggling to find his own particular talents in the emperor penguin world. But new dangers are threatening the penguin nation, and it's going to take everyone working - and dancing - together to save their home.
This book features pictures from the movie.
Ad blocker interference detected!
Wikia is a free-to-use site that makes money from advertising. We have a modified experience for viewers using ad blockers

Wikia is not accessible if you've made further modifications. Remove the custom ad blocker rule(s) and the page will load as expected.