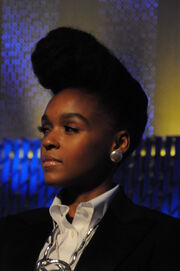 Janelle Monáe Robinson (born December 1, 1985), is an American and soul musician, composer, and record producer. Her single "Tightrope (Ice Cold Mix)" is also featured in the ending credits of Happy Feet Two.
Ad blocker interference detected!
Wikia is a free-to-use site that makes money from advertising. We have a modified experience for viewers using ad blockers

Wikia is not accessible if you've made further modifications. Remove the custom ad blocker rule(s) and the page will load as expected.