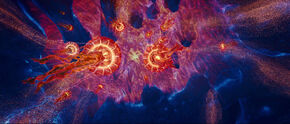 Jellyfishes are the major non-polyp form of individuals of the phylum Cnidaria.
Information
Edit
In the Real World
Edit
In Happy Feet: The Videogame (GBA Version), they appear as enemies in water levels and in-game, you can also bounce at them.
In Happy Feet Two, they also appear as two giant orange jellyfishes and with their baby jellyfishes. They were first seen when Bill and Will are looking at them and reappear again in the end of the movie at "Under Pressure".
Ad blocker interference detected!
Wikia is a free-to-use site that makes money from advertising. We have a modified experience for viewers using ad blockers

Wikia is not accessible if you've made further modifications. Remove the custom ad blocker rule(s) and the page will load as expected.