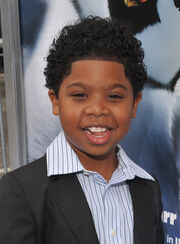 Benjamin Flores, Jr. (born July 23, 2002) better known as Lil P-Nut is a American child rapper from Memphis, who is known for his song, "You Might Be the One", and his role as the voice Atticus the rapping penguin in Happy Feet Two. In Happy Feet Two: The Video Game, his song "Penguin's Life" is featured in one of the levels.
External links
Edit
Ad blocker interference detected!
Wikia is a free-to-use site that makes money from advertising. We have a modified experience for viewers using ad blockers

Wikia is not accessible if you've made further modifications. Remove the custom ad blocker rule(s) and the page will load as expected.