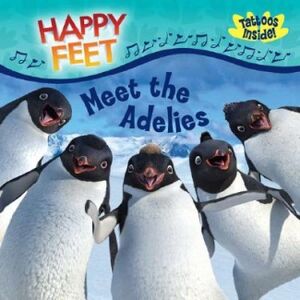 Meet the Adelies is a Happy Feet book written by Mark McVeigh.
Description
Edit
When Mumble first ventures away from Emperor Land, he meets the Adelies—a group of penguins that might be small in stature but are big in attitude. This hilarious book follows and profiles the Adelies as they help Mumble to be a true amigo and embrace his true self. And with simple switching between English and Spanish words, this bilingual book will be perfect for the Hispanic market and all fans of the fun-loving, big-hearted, breakout characters—the Adelies!.
Ad blocker interference detected!
Wikia is a free-to-use site that makes money from advertising. We have a modified experience for viewers using ad blockers

Wikia is not accessible if you've made further modifications. Remove the custom ad blocker rule(s) and the page will load as expected.