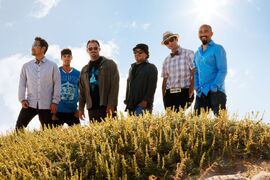 Ozomatli is a seven piece band playing primarily Latin, hip hop, and rock music, formed in 1995 in Los Angeles. In the deluxe edition of the Happy Feet Two album contains an addition of 5 songs performed by Ozomatli; these songs and more can also be found on the soundtrack for the video game, which was released on iTunes on November 8, 2011.
Ad blocker interference detected!
Wikia is a free-to-use site that makes money from advertising. We have a modified experience for viewers using ad blockers

Wikia is not accessible if you've made further modifications. Remove the custom ad blocker rule(s) and the page will load as expected.