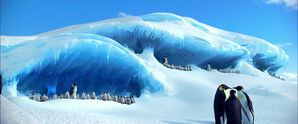 Penguin Elementary was a elementary school located in the former home Emperor-Land.
Information
Edit
Penguin Elementary appears in the film when Gloria quickly established herself as a musical prodigy and Mumble is entranced by her wonderful voice. When Mumble himself tries to sing, he can accomplish nothing more than squeaky screeching. The entire class laughs at him - all except Gloria, who defends him. Later when class ends, Mumble's parents Memphis and Norma Jean were talking to Miss Viola about Mumble before taking their son to see Mrs. Astrakhan about the problem.
Later in subsequent singing classes, Mumble spends his time at the back of the class and daydreams about the wonders of the world, while Gloria sings more beautifully by the day.
Main article: Penguin Elementary (video game)
In Happy Feet: The Videogame in the level "Miss Viola's Class", the outside version of Penguin Elementary appears taking place outside.
Ad blocker interference detected!
Wikia is a free-to-use site that makes money from advertising. We have a modified experience for viewers using ad blockers

Wikia is not accessible if you've made further modifications. Remove the custom ad blocker rule(s) and the page will load as expected.