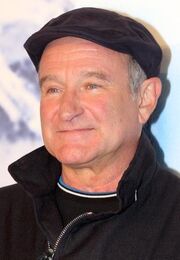 Robin McLaurin Williams (July 21, 1951 – August 11, 2014) was an American stand-up comedian, actor, director, producer, writer, singer, voice artist, and comedian. He was the voice of Ramón and Lovelace in Happy Feet and Happy Feet Two.
On August 11, 2014, after a long history of severe depression, Williams committed suicide by slashing his wrists and hanging himself at his home in Paradise Cay, California at age 63.
Trivia
Williams was sometimes thought to have died in Tiburon, Marin County, San Francisco, California.
Happy Feet Two was Williams final animated feature he stared in.
External links