This article is a stub.

Mumble needs your help! go and press the "Edit" button so you can help the Happy Feet Wiki by embiggening it or you will be a hippity-hopper of the Emperor Nation.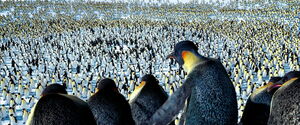 The Exile of Mumble is a punishment in the form of expulsion from Emperor-Land performed on Mumble by Noah the Elder after the emperor penguins dances with Mumble in "Boogie Wonderland". This is where Nestor performs "Leader of the Pack".
Information
Edit
After Noah said to everyone to stop dancing, he was mad and upset about his heart of their community have lost their minds, and said that they can only survive here when they're in harmony. 
When Mumble is about to leave, he said to Noah as acting as Ramón.
During the argument of Memphis and Norma Jean, the Amigos is not seen, but when Mumble leaves the group, The Amigos is there.
Ad blocker interference detected!
Wikia is a free-to-use site that makes money from advertising. We have a modified experience for viewers using ad blockers

Wikia is not accessible if you've made further modifications. Remove the custom ad blocker rule(s) and the page will load as expected.