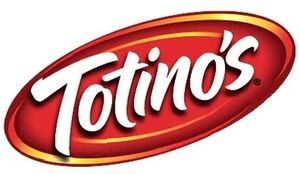 Totino's and Jeno's are brands of frozen pizza products owned by General Mills.
Rose Totino and her husband, Jim, founded a take-out pizzeria in Minneapolis, Minnesota, in 1951. They later expanded it to a full-service restaurant, which moved in 2007 and closed in 2011. They also founded a frozen-pizza manufacturing company. The Totinos eventually sold the frozen pizza business to the Pillsbury Company, where Rose Totino was named a vice-president. The Totino's brand was acquired by General Mills with its purchase of Pillsbury.
Separately, Jeno Paulucci developed a series of food businesses starting in the late 1940s, including the Chun King line of Asian-themed foods. After selling Chun King in 1966, in 1968 he founded Jeno's Inc., where he developed Pizza Rolls, a type of egg roll filled with pizza ingredients. In 1985, Paulucci sold his Jeno's Pizza Rolls brand to Pillsbury for $135 million.
The Jeno's line of pizza rolls was rebranded as Totino's in 1993. Totino's and Jeno's products are manufactured in Wellston, Ohio. The brands produce about 1.4 million pizzas a day and sell an average of about 240 million each year. Pizza rolls are also manufactured.
In 2006, Totino's promoted the movie tie-in ad for the movie Happy Feet that included Mumble to win a Sleepover with the Penguins.
Ad blocker interference detected!
Wikia is a free-to-use site that makes money from advertising. We have a modified experience for viewers using ad blockers

Wikia is not accessible if you've made further modifications. Remove the custom ad blocker rule(s) and the page will load as expected.