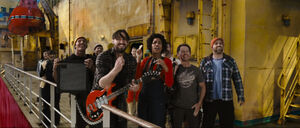 "We Are the Champions" is a power ballad written by Freddie Mercury and recorded and performed by British rock band Queen for their 1977 album News of the World. The song appeared in Happy Feet Two as part of the score and featured on the soundtrack.
Ad blocker interference detected!
Wikia is a free-to-use site that makes money from advertising. We have a modified experience for viewers using ad blockers

Wikia is not accessible if you've made further modifications. Remove the custom ad blocker rule(s) and the page will load as expected.